Established in 1964 with three full-time professors — Dick Comstock, D. Mackenzie Brown, and Walter Capps —  the Religious Studies Department at UC Santa Barbara is now the largest religion department in the University of California system, and one of the most diverse religion departments in the world.
With an internationally recognized faculty of twenty-five professors, three permanent lecturers, and more than twenty affiliates and visiting scholars, the Department prides itself on both the breadth and depth of its course offerings and programs. Many of the languages necessary for the study of the religion — Arabic, Hindi, Persian, Punjabi, Sanskrit, and Tibetan — are taught within Religious Studies.
We are justifiably proud to have played an important role in advancing the academic study of religion in public universities not only in the Golden State, but across the nation.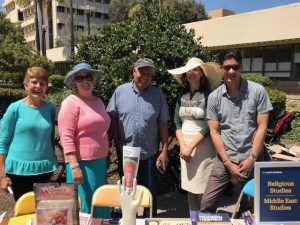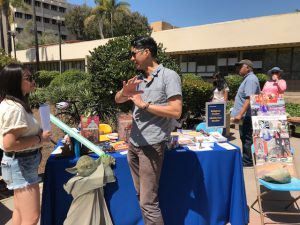 ***
The UCSB Department of Religious Studies vigorously affirms the University of California policies regarding anti-discrimination, sexual violence and sexual harassment:
University of California Title IX Policy
The University of California, in accordance with applicable federal and state laws and University policy prohibits discrimination against or harassment of any person at the University on the basis of race, color, national origin, religion, sex, gender, gender identity, pregnancy, physical or mental disability, medical condition (cancer-related or genetic characteristics), ancestry, marital status, sexual orientation, citizenship or age. These policies cover admission, employment, access, and treatment in University programs and activities.  (https://oeosh.ucsb.edu/titleix/policies/)
University of California Policy on Sexual Violence and Sexual Harassment
The University of California ("University") is committed to maintaining a community dedicated to the advancement, application and transmission of knowledge and creative endeavors through academic excellence, where all people who participate in University programs and activities can work and learn together in an atmosphere free of harassment, exploitation, or intimidation. Sexual violence, sexual harassment, retaliation, and other behavior prohibited by this Policy interfere with those goals. The University will respond promptly and effectively to reports of such conduct. This includes action to stop, prevent, correct, and when necessary, discipline, behavior that violates this Policy. This Policy addresses the University's responsibilities and procedures related to sexual violence, sexual harassment, retaliation, and other prohibited behavior as those terms are defined in this Policy (together, "Prohibited Conduct") in order to ensure an equitable and inclusive education and employment environment. The Policy defines Prohibited Conduct and explains the administrative procedures the University uses to resolve reports of Prohibited Conduct.