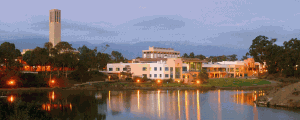 The Religious Studies Department at UC Santa Barbara is the largest religion department in the University of California system, and one of the most diverse religion departments in the world. With an internationally recognized faculty of twenty-three professors, two permanent lecturers, and more than twenty affiliates and visiting scholars, the Department prides itself on the both the breadth and depth of its course offerings and programs. Many of the languages necessary for the study of the religion — Arabic, Hindi, Persian, Punjabi, Sanskrit, and Tibetan — are taught within Religious Studies. The Department celebrated its 50th anniversary during calendar year 2014. Please check back for details about the many anniversary-related events we are currently planning, and please join us for these celebrations!
The Department offers Bachelor and Masters of Arts degrees as well as the Ph.D in Religious Studies. Our undergraduate majors often double-major in religion and another field (including the sciences). BA students sometimes go on to do graduate work in the academic study of religion, but they just as often pursue other professions. They tell us that the training they received as Religious Studies majors prepared them well for a host of different careers, including law, medicine, journalism, non-profit and NGO work, and so on. If you would like more information on becoming a Religious Studies major, visit the Undergraduate Program web-page, or contact Prof. Ahmad A. Ahmad, the faculty undergraduate adviser.
Our masters and doctoral programs are known for their strength in a number of different areas. Students often work comparatively across these various areas, focusing on more than one religion, cultural area, or methodology. Graduates from our Ph.D. program fare very well in the very competitive academic job market, as reflected in our excellent placement statistics. If you are interested in applying to the graduate program, visit the Graduate Program web-page or contact the faculty Director of Graduate Studies, Prof. David Walker.