The Religious Studies Department strongly encourages its students to study abroad through the University's Education Abroad Program. The study of religion should not be restricted to classrooms and books. Rather it should include historical contexts, political conditions, material culture, ritual practices, pilgrimage routes, cultural geography, local lore, art, architecture, experiences, discourses, sounds, sights, and smells. Imagine studying in a country where you can visit 'sacred sites' and observe religious rituals in situ while you study related histories and languages! With over 150 universities to choose from in 40 different countries, the possibilities are endless. Whether you go for a summer, a semester, or a year, you can still plan your courses so that you will graduate on time. What are you waiting for?
Why study abroad?
The study of religion should be considered in terms of human experience, experience that varies across time and place. Studying abroad will not only provide you with a unique life experience yourself, it will broaden your perspective, knowledge, and skills necessary to be effective professionally and personally in our rapidly changing global world.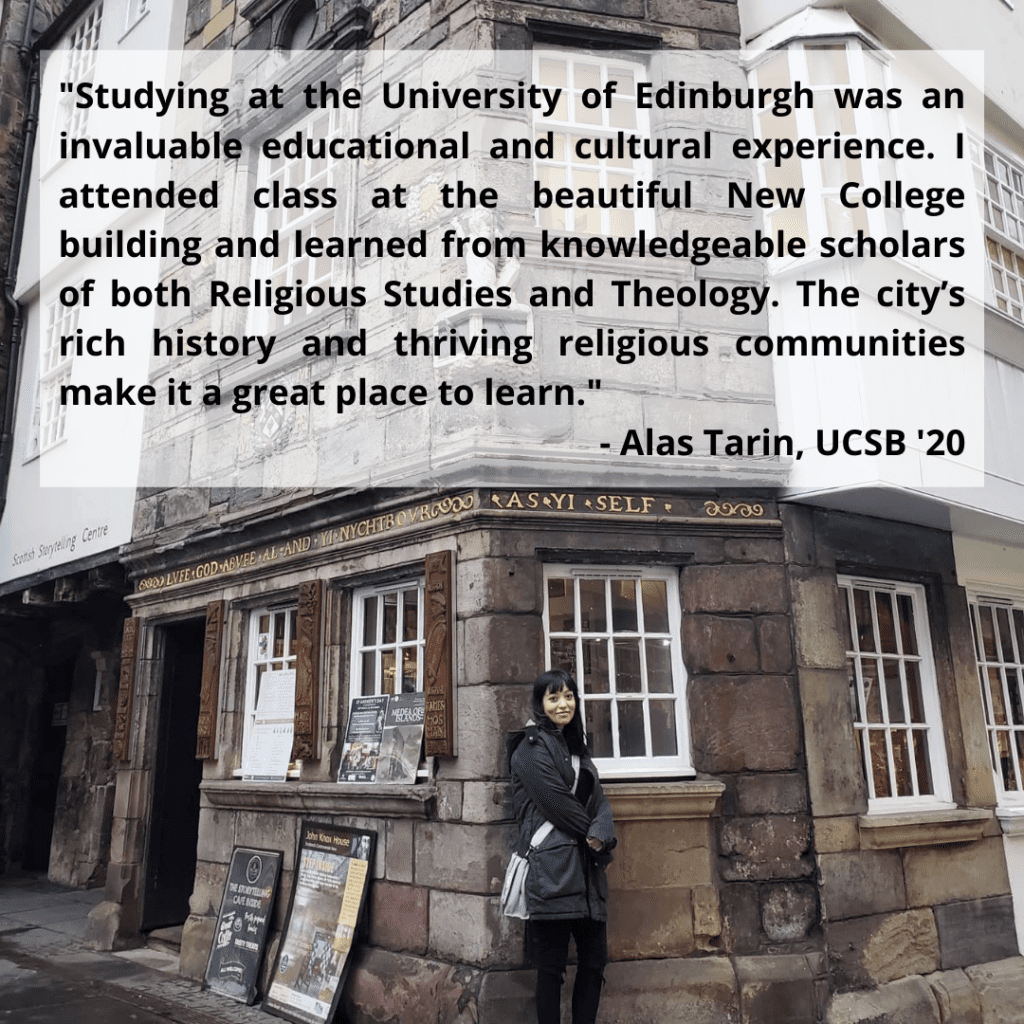 Exposure to other cultures can help students gain new perspectives and achieve a greater understanding of the world in which we live. It is also an opportunity to put one's critical thinking and reasoning skills to the test in a whole new setting.
Religious studies majors and minors have taken courses at a wide range of international institutions, including courses on European New Religious Movements at the University of Edinburgh (Scotland), Religion & Conflict at the University of Cape Town (South Africa), Near Eastern Studies at the University of British Columbia (Canada), Japanese Religions at Doshisha University (Japan), Liberation Theology at the University of Santiago (Chile), and the Sociology of Religion at the Institut d'Etudes Politiques (France). These courses have counted towards the Preparation (LD), Cultural Areas & Traditions (UD-A), or Topics (UD-B) sections of the religious studies major and minor.
For more information about studying abroad, see EAP's Religious Studies page.
For a list of classes taken abroad for credit in the Religious Studies major and minor, see this database.