Professor of Religious Studies
Dalai Lama Endowed Chair
Area: Tibetan Buddhist Studies

Ph.D., The University of Wisconsin
Curriculum Vitae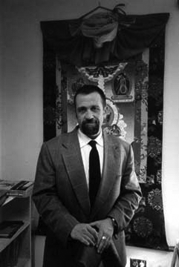 The discipline of Tibetan Buddhist Studies in the United States has shifted its focus over the last three decades. Beginning as a project that was concerned principally with the study of philosophical texts, and relying almost exclusively on emic, or tradition-centered, interpretive schemes, the field has broadened its scope considerably. Today, scholars are still concerned with philosophical texts, but also with the ritual, historiographical and visionary literature, with the oral texts in which Tibetans describe their lives and daily practices, and with the material aspects of Tibetan religious culture. The way of understanding this material has also shifted, as Tibetologists draw on a wide array of theoretical models and hermeneutical tools: from comparison to Continental thought to gender studies and queer theory. In my studies, I am interested in bringing these contemporary, Western approaches to understanding religion into conversation with indigenous Tibetan theory. My goal, in part, is to demonstrate the richness and sophistication of the Tibetan intellectual tradition, a richness that goes beyond Tibet's mere use as a datum.
Books
Selected Articles, Reviews & Entries
"Two Views on the Svatantrika/Prasangika Distinction in 14th century Tibet," in G. Dreyfus and S. McClintock, eds., The Svatantrika/Prasangika Distinction: What Difference Does a Difference Make? (Boston: Wisdom Publications, 2003).
"Two Views of the Svatantrika/Prasangika Distinction in Fourteenth Century Tibet," in Georges B. J. Dreyfus and Sara L. McClintock, eds., The Svatantrika/Prasangika Distinction: What Difference Does a Difference Make? [Boston: Wisdom, 2003].
"Buddhism and Science: On the Nature of the Dialogue," in Alan Wallace, ed., Buddhism and Science: Breaking New Ground [NY: Columbia University Press, 2003].
"Authorship and Literary Production in Classical Buddhist Tibet," in Guy Newland, ed., Changing Minds: Contributions to the Study of Buddhism and Tibet in Honor of Jeffrey Hopkins. [Ithaca: Snow Lion, 2001].
Courses Taught
RS 31: Religions of Tibet
RS 135: Readings in Tibetan Texts
RS 171: The Schools of Tibetan Buddhism
RS 184A: The Practice of Tibetan Buddhism
RS 184B: Tibetan Buddhist Thought
RS 135: Guided Readings in Tibetan Buddhist Texts.
RS 254A: Seminar on Tibetan Buddhist Traditions.
RS 254B: The Study of Tibet from the Missionaries to Cultural Studies.
RS 254C: Seminar on Indo-Tibetan Buddhist Philosophy.
RS 225: Religion and Material Culture.