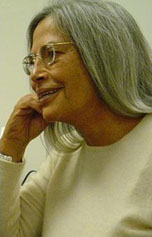 Professor
Area:
Native American Religious Traditions
Office:
HSSB 3069
Email:
About:
I arrived at UCSB in 1979 from Dartmouth College to develop the area of Native American Religious Traditions. Since then I have developed ten undergraduate courses in this area of study and have taught a variety of graduate seminars. The UCSB Religious Studies Department is unique in the nation in that we offer a Ph.D. in religious studies with an emphasis in Native American Religious Traditions. Religion is the central domain of Native American cultures; it is considered the lifeway that connects people to each other and to the non-human world. Our classes introduce students to Native America's rich oral traditions, languages, and cultural heritages, from the historical point of encounter to present-day Native American realities. Since my arrival I have had the pleasure of guiding many graduate students through their doctoral degrees in this area of study. My emphasis on teaching and mentoring is critical to my work, as is field research.
Publications:
Teaching Religion and Healing (AAR Teaching Religious Studies, 2006)
Articles:
"In the Space Between the Earth and the Sky" in Native Religions and Cultures of North America: Anthropology of the Sacred, Lawrence E. Sullivan, editor, Continuum, New York 2000.
"Vine Deloria Jr., Critic and Coyote: Transforming Universal Conceptions," a festschrift for Vine Deloria Jr., in press.
"The Presence of Isanaklesh. The Apache Female Deity and the Path of Pollen," updated and reprinted in Unspoken Worlds: Women's Religious Lives, Wadsworth Press, Third Edition, 2000.
Courses Taught:
RS 14: Introduction to Native American Religious Studies
RS 104: Problems in the Study of Religion
RS 110D: Ritual Art and Verbal Art of the Pacific Northwest
RS 114B: Religious Traditions of the Southwest
RS 114C: Myths, Symbols, and Transitions in Native American Religions
RS 114D: Religion and Healing in Native America
RS 118: Religious Contours of the Western Hemisphere
RS 156A: Anthropology of Religion
RS 176: The Religious Contours of California
RS 192: Women and Religion in America
RS 193: Religion and Ecology in the Americas
RS 247: Seminar in Native American Religious Traditions