Associate Professor of Religious Studies
Area: American Religion, Race and Religion

Ph.D., University of California at Berkeley
Curriculum Vitae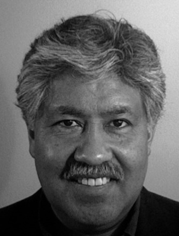 My work begins with Michael Omi and Howard Winant's position that concepts of race "structure state and civil society" and "shape both identities and institutions in significant ways" (Racial Formation in the United States, vii). Approaching religion in North America through the lens of race and ethnicity allows us to uncover hidden and subjugated histories and actors in American religion. This close attention to racial and ethnic interactions in North America also lets us examine how the study of religion has itself been structured and shaped by assumptions about race/ethnicity and helps explain the theoretical absence of race as a variable for critical analysis of religion. To study religion in this way requires interdisciplinarity, transdisciplinarity (working across disciplines) and when necessary, counterdisciplinarity (working against established disciplinary regimes). More specifically, my teaching, research and writing focus on Chican@/Latin@ religion; Asian and Pacific American religious traditions; issues around indigeneity; the transformation of world religious traditions in the United States; religion in the American west and Pacific Rim; evangelical Christianity; and religion in science fiction as a genre for "making strange" issues of alterity and posing questions about the relationship between religion and science.
Books
"King Tiger": The Religious Vision of Reies López Tijerina. University of New Mexico Press, 2005.
Selected Articles, Reviews & Entries
"'Chiariida o Sukue, Sekai o Sukue': Nuclear Dread and the Pokémonization of American Religion in Season One of Heroes" Small Screen, Big Picture: Television and Lived Religion, Diane Winston, ed., 289-318. Baylor University Press, 2009.
"'In the Outer Boundaries…': Pentecostalism, Politics and Reies López Tijerina's Civic Activism" Latino Religions and Social Action in the United States, Gaston Espinosa, Virgilio Elizondo and Jesse Miranda, eds., 65-75. Oxford University Press, 2005.
"DisOrienting Subjects: Reclaiming Pacific Islander / Asian American Religious Traditions" Revealing the Sacred in Asian America, Jane Iwamura and Paul Spickard, eds., 9-28. Routledge, 2003.
"The Gospel According to the Model Minority? Hazarding an Interpretation of Asian American Evangelical College Students" Spiritual Homes: Religion and Asian Americans, David Yoo and Russell Leong, eds., 169-187. University of Hawaii Press, 1999.
"'It Really Resembled an Earthly Paradise': Reading Motolinia's Account of the

Caída de nuestros primeros padres

" Biblical Interpretation 2:1 (Winter 1994), 111-137.
Courses Taught
RS 9: Religion & Ethnicity
RS 16: Chicano/Latino Religious Traditions
RS 71: Introduction to Asian American Religions (ASAM 71)
RS 90AZ: Aztec Religion
RS 104: Problems in the Study of Religion (Senior Seminar)
RS 110F: Religion & Science Fiction
RS 116E: Evangelical Christianity in the U.S.
RS 123: Asian American Religious Traditions (ASAM 161)
RS 151C: Religion in the American West
RS 191A: Latino Religious Thought
INT: Freshman and Honors courses on Religion and Virtual Worlds
RS 266R: Seminar in Race and Religion