Professor of Religious Studies
Area: Folklore & Folklife

Ph.D., University of Pennsylvania
Curriculum Vitae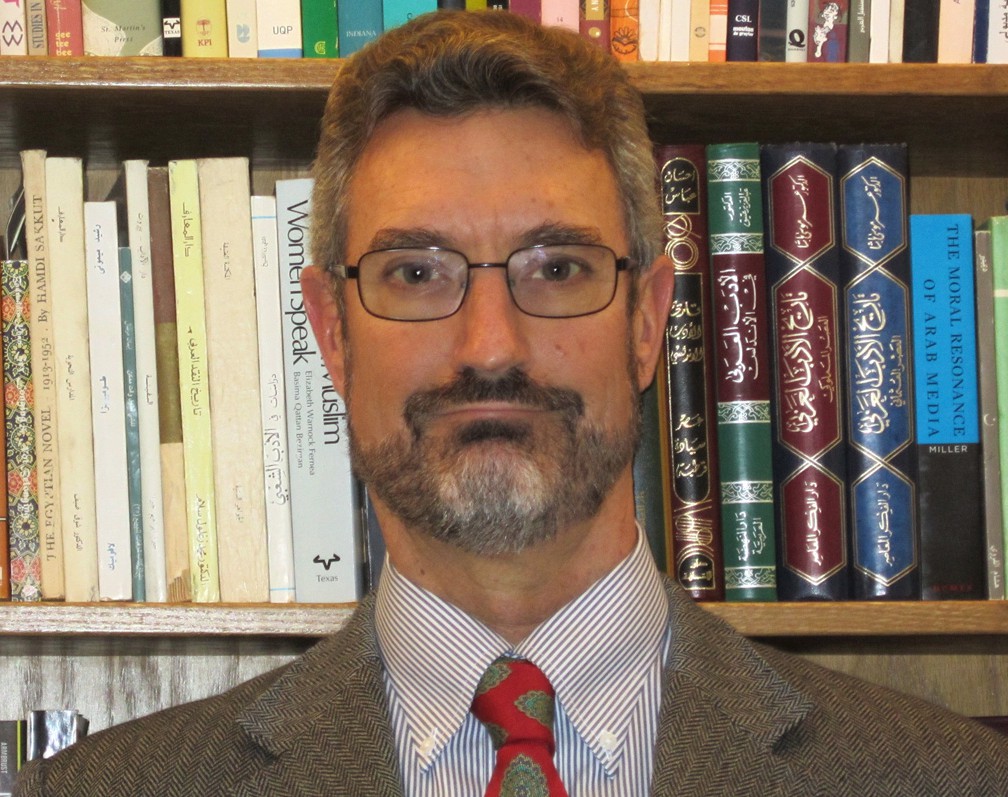 Dwight Reynolds is an Professor of Religious Studies at the University of California in Santa Barbara.
Books
Arab Folklore: A Handbook, Westport, CN: Greenwood Press, 2007
Interpreting the Self: Autobiography in the Arabic Literary Tradition. Dwight F. Reynolds, editor and co-author. Berkeley/Los Angeles: University of California Press, 2001.
Heroic Poets, Poetic Heroes: The Ethnography of Performance in an Arabic Oral Epic Tradition. Ithaca: Cornell University Press, 1995.
Selected Articles, Reviews & Entries
"Lost Virgins Found: The Arabic Songbook Genre and an Early North African Exemplar."  Quaderni di Studi Arabi Special Issue: Words and Music.  Eds. Hilary Kilpatrick and Giovanni Canova (in press).
"Arab Musical Influence on Europe: A Reassessment."  In A Sea of Languages: Literature and Culture in the Pre-Modern Mediterranean.  Eds. Suzanne Akbari and Karla Mallette.  University of Toronto Press (in press).
"Composition in Performance Arab Style." In Singers and Tales in the 21st Century: The Legacies of Milman Parry and Albert Lord.  David Elmer, ed.  Harvard University Press (forthcoming)
"Epic and History in the Arabic Tradition."  In Epic and History.  Eds. David Konstan and Kurt A. Raaflaub.  Chichester, West Sussex: Wiley-Blackwell, 2010: 392-410.
"New Directions in the Study of Medieval Andalusi Music."  Journal of Medieval Iberian Studies, Vol. 1,  no. 1 (2009): 37-51.
"Al-Maqqarī's Ziryāb: The Making of a Myth."  Middle Eastern Literatures, Vol. 11, no. 2 (2008): 155-168.  Special issue, ed. Shawkat Toorawa.
"Musical Aspects of Ibn Sanā' al-Mulk's Dār al-Ṭirāz."  In Muwashshah: Proceedings of the Conference on Arabic and Hebrew Strophic Poetry and its Romance Parallels, October 8-10, 2004, School of Oriental and Asian Studies, University of London: 211-227.
The Sirat Bani Hilal Digital Archive: www.siratbanihilal.ucsb.edu
The Cambridge History of Arabic Literature: the Post-Classical Period, Section Editor (Part IV: Popular Prose) & Contributing Author (pp. 245-69, 270-91, 307-18). Cambridge: Cambridge University Press, 2006.
"Symbolic Narratives of Self: Dreams in Medieval Arabic Autobiography." In Defining Fiction and Adab in Medieval Arabic Literature, ed. Philip Kennedy. Studies in Arabic Language and Literature, Harrassowitz Verlag, Volume 7: 259-284, 2005.
"La Música Andalusí como Patrimonio Cultural Circum-Mediterráneo." In El patrimonio cultural, multiculturalidad y gestión de la diversidad [Cultural Patrimony, Multiculturalism, and the Management of Diversity], 128-141. Eds. Gunther Dietz and Gema Carrera. Sevilla: Instituto Andaluz del Patrimonio Histórico, 2005.
"Creating an Epic: From Apprenticeship to Publication," in Textualization of Oral Epics, ed. Lauri Honko. Berlin/New York: Mouton de Gruyter. Pp.247-262, 2000.
"Music," in Cambridge History of Arabic Literature, The Literature of Al-Andalus. Cambridge: Cambridge University Press, pp. 60-82, 2000.
"Musical 'Membrances of Medieval Muslim Spain.'" In Charting Memory: Recalling Medieval Spain, ed. Stacy Beckwith. New York: Garland, pp. 155-168, 2000.
Courses Taught
RS 148A-C: Advanced Arabic
CL 32: Literatures of the Middle East
RS 211: The Ethnography of Performance
RS 289A-C: Arabic Literary Readings